Canada's largest national park in the Rockies may be spectacular in summer, but it's absolutely magical in wintertime. Here are some key tips for experiencing Jasper with the kids this winter.
Make Every Day a Snow Day
There are so many winter activities in Jasper that it's hard to decide where to start.
Skiing at Marmot Basin is fun for the whole family with ski school options for different age groups. If your little ones don't have their ski legs just yet, the hill also offers a nursery for children 19 months to six years old.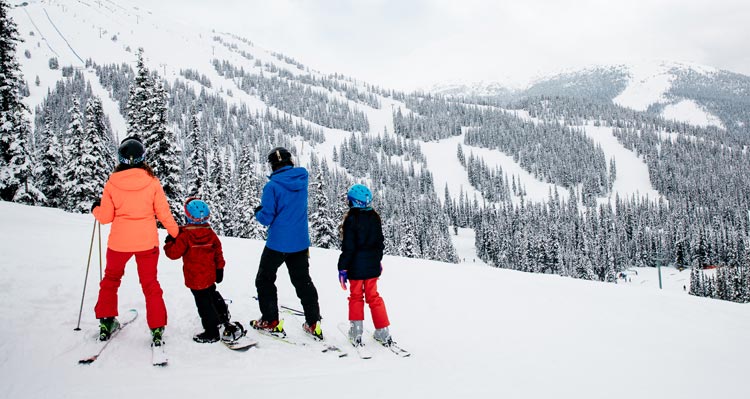 Another must-do is a guided icewalk tour along the bottom of Maligne Canyon, Jasper National Park's deepest accessible canyon. Adults and kids alike will be enchanted by frozen falls, frosted limestone and natural ice sculptures. The tour also includes a smokehouse lunch at Maligne Canyon Wilderness Kitchen, complete with main course, side and non-alcoholic drink.
Break a sweat to beat the chill and go cross-country skiing or snowshoeing. The 3.6-km loop at Wabasso campground runs alongside the Athabasca River for a scenic ski. Plus, the route is kid-friendly and features additional loops if you wish to add to your journey.
If you'd rather travel on wheels, try hopping on a fat bike and hitting the 4.4-km Woodpecker loop between Lake Annette and Jasper Park Lodge. There are many rental spots in and around town if you don't have your own gear, including at Pyramid Lake Lodge.
Jasper's frozen lakes turn into skating rinks in the winter. Hit the ice on skates at Pyramid Lake or play pick-up hockey on Lake Mildred. On weekends, bring a thermos of hot chocolate and warm up by the fire. Pyramid Lake Lodge also offers skate rentals for all ages.
Action aside, family time is also about slowing down and taking in the sights together. The sleigh ride at Pyramid Lake is free for kids under five and perfect for sightseeing. Cozy up under warm blankets as you marvel at the surrounding snow-capped mountain peaks.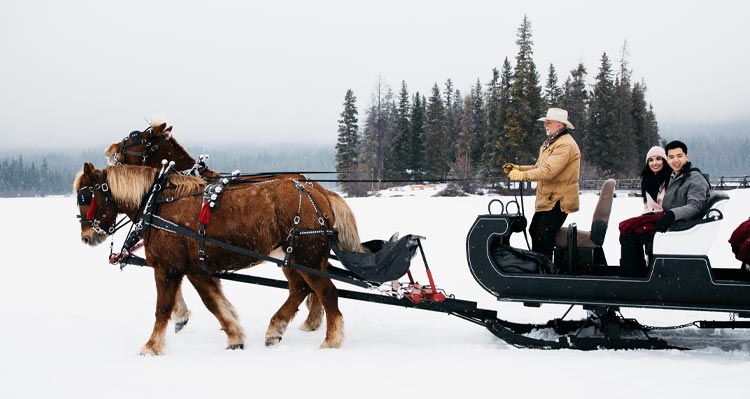 Ideas for Indoor Fun
It's no secret that the Canadian Rockies can get downright frosty in wintertime.
Visit Jasper-Yellowhead Museum & Archives or the Jasper Planetarium, home to the Rockies' largest telescope, to escape the cold and learn something new. Or, indulge in pure entertainment while catching a flick at the Chaba Theatre (kids' matinees play on occasional weekends).
Craving something sweet? Coco's Café is beloved by locals and a must-visit for hot beverages and its famous breakfast wrap. Pizza is always a crowd pleaser, too — check out Hearthstone Pizza for takeout or delivery. If you want to enjoy gorgeous Rocky Mountain and lake views, dine at Aalto to wrap up your day.
When the weather is frosty, there is nothing better than warming up in a hot tub or heated pool. The Jasper Activity Centre has pools, a hot tub and a sauna, as do many of the great hotels in Jasper.
Check out Pyramid Lake Lodge and Lobstick Lodge for a relaxing outdoor hot tub experience. For those more sensitive to the cold, enjoy fun in the indoor pool and hot tubs at Forest Park Hotel, The Crimson, Marmot Lodge or Chateau Jasper.
Festivals and Events
In December, kids and parents alike will be enchanted by sparkling Christmas lights during the Festival of Trees.
Jasper in January, which runs for three weeks of the month, is the perfect way to experience the town's authentic mountain spirit. This festival has been a favourite for more than 30 years. Kids will love dogsledding, street party games and tasty treats galore.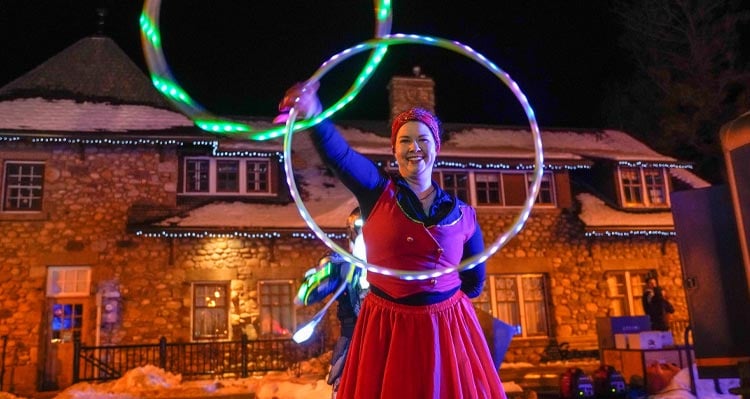 In mid-February all across Alberta, Family Day Weekend gives us a little more time to slow down and appreciate each other's company. In Jasper, you can book a number of guided snowshoe tours to experience the snow-covered mountains together.
From the first sign of snow straight through the winter, Jasper is truly a family-friendly winter wonderland!