Jasper National Park is home to some of Canada's most picturesque natural marvels, exciting outdoor activities and diverse wildlife.
And with so much to experience outdoors, staying beneath the stars in in the world's second largest Dark Sky Preserve is the perfect way to take it all in.
To prep you for your next adventure beneath Jasper skies, we've compiled where to stay, what to do and what to remember as you explore the largest national park in the Canadian Rockies on an unforgettable camping trip.
Seven Campgrounds in Jasper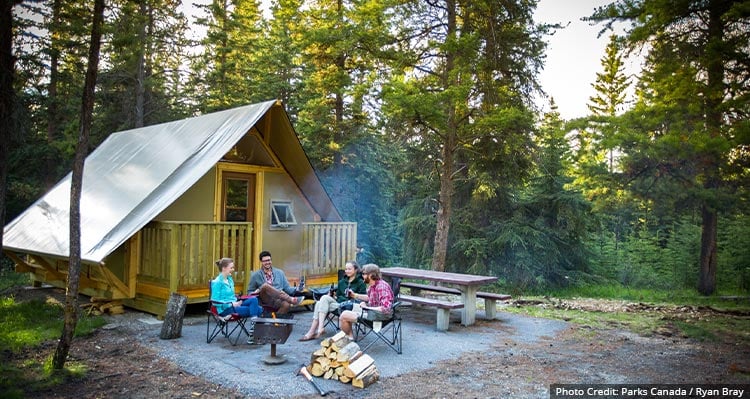 From adventurers looking to camp off the beaten path to RV aficionados that bring comfort along in tow, Jasper has a campground for everyone to rest easy in.
Whistlers Campground
Whistlers is the closest campground to the Jasper townsite and the largest in the national park. It's fully serviced with everything you need: a convenient location, family-friendly and accessible amenities, and sites to suit every size of motorhome and tent.
Pocahontas Campground
Located just inside the east boundary of the park, this campground is the closest to Miette Hot Springs. You'll trade a few camp luxuries for added tranquility at this location, but there are still a few basic services like running water and flush toilets. Tenting, motorhome, and trailer sites are available.
And if you forgot any essentials, the nearby General Store at Miette Mountain Cabins is stocked with everything you need.
Honeymoon Lake Campground
Just off the world-famous Icefields Parkway, this unserviced campground welcomes both tents and trailers. Wake up to tranquil morning moments on the shore of a crystal-clear lake and enjoy a variety of beautiful day hikes and points of interest in the area, like Sunwapta Falls.
Jonas Creek Campground
A short 20-minute drive from the Columbia Icefield Discovery Centre, you'll find Jonas Creek Campground. Despite its proximity to the highway, beautifully secluded campsites in the forest can be enjoyed with a little extra legwork at some walk-in sites.
Wilcox Creek Campground
Wilcox Creek campground shares a name with its famous neighbour, Wilcox Pass, one of Jasper's most popular day hike destinations. You'll find its trailhead at the campground's entrance. Wilcox Creek is also just minutes from the Columbia Icefield and has basic, rustic features, including outhouses and picnic tables.
Snaring Campground
With only the sounds of a rushing river and the whistle of an occasional Canadian Pacific Railway train to keep you company, a stay at Snaring Campground is a tried-and-true way to get away from it all — even though it is only a 15-minute drive from the Jasper townsite.
Kerkeslin Campground
Situated along the Athabasca River, Kerkeslin offers visitors a quiet, shady spot to set up camp. The campground has 42 unserviced sites available on a first-come, first-served basis, with basic amenities like picnic tables, outhouses and metal fire rings. Paddlers can also find a spot to push off at the campground's natural canoe launch.
Six Attractions in Jasper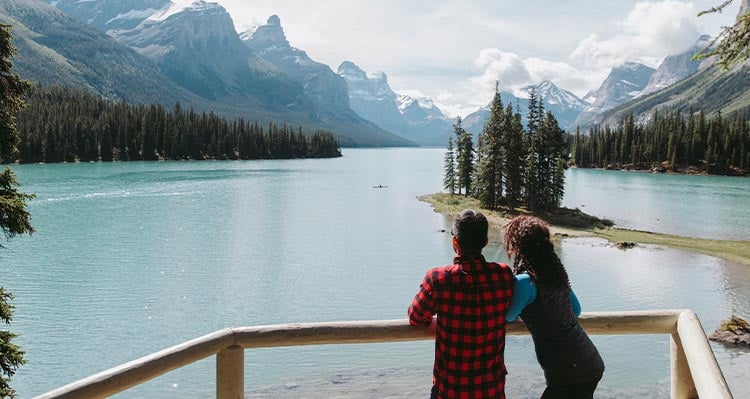 There's no shortage of trails to conquer and adventures to embark on within Jasper's boundaries. Here are just a few ways to get the most out of your visit.
Maligne Canyon
Experienced trekkers and new hikers alike have plenty to explore at Maligne Canyon, the deepest canyon in Jasper National Park. Six bridges link the canyon's trail, taking hikers above spectacular waterfalls and moss-dotted rock walls. Top it off with dinner at the nearby Maligne Canyon Wilderness Kitchen for a fully unforgettable adventure.
Maligne Lake
See the towering peaks of Jasper from beyond the shoreline aboard Maligne Lake Cruise. Once departed you'll learn the history of the area as you make your way to Spirit Island atop deep turquoise waters. Prefer to steer your own ship? Rent a canoe, kayak or rowboat at Maligne Lake Boat Rental and set a serene course of your choosing.
Columbia Icefield
Exploring the Columbia Icefield can quickly create a whole new outlook on the majesty and wonder of an ever-changing world. Starting from the Glacier Discovery Centre, traverse the ancient Athabasca Glacier aboard the massive Ice Explorer before spending time atop the glacier yourself. Then, head to the glass-bottomed Skywalk for an extraordinary perspective on the wonders of Jasper.
Golfing at Jasper Park Lodge
As if some of Canada's best scenery wasn't enough, Jasper is also home to Canada's top-rated golf resort, Fairmont Jasper Park Lodge. Bring your clubs for a round in the Rockies you're sure to remember, regardless of what you score.
Wildlife Viewing
Jasper National Park is home to much more than just humans. Caribou, elk, moose, mountain goats, bighorn sheep, bears and wolves all inhabit the park, with smaller animals like marmots and a variety of birds also living in Jasper. Morning and evening are usually the best time for sightings for most animals — check out Jasper Tourism's website for more great wildlife viewing tips.
Jasper SkyTram
An amazing sky-high view is just a short ride away with the Jasper SkyTram, a 2,263-metre (nearly 7,500 feet) trip up Whistlers Mountain. Bask in panoramic views above the dynamic lands below, with sights that stretch as far as Mount Robson in nearby British Columbia.
Tricks and Tips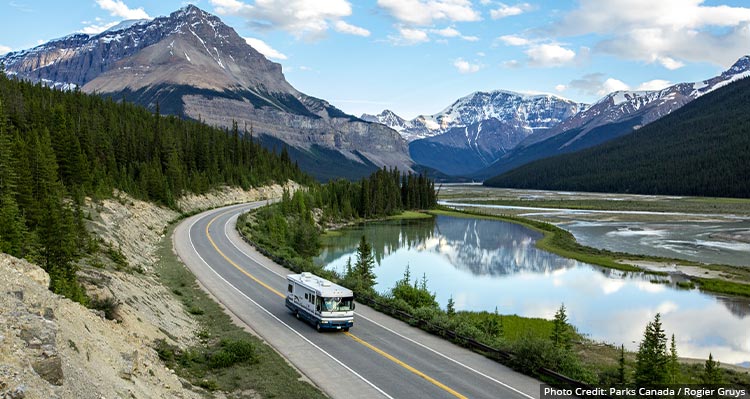 It's easy to get wrapped up in the excitement of planning a Jasper camping getaway. So, we've put together a couple "good to knows" to consider before and during your trip.
Know if your campground of choice is booked by reservation or on a first-come, first-served basis by visiting Jasper National Park's web page. Reservable sites tend to book up fast, so a little prep work can go a long way if you're looking to reserve.
Before you pack the firewood, check albertafirebans.ca for the latest on fire bans, restrictions or advisories in effect.
Pack all the other essentials to keep things comfortable: bug spray, sunscreen and a first aid kit, plus a variety of clothing options to protect you from whatever the elements throw your way.
The wildlife in Jasper is just that — wild. Be sure to take proper precautions before heading out onto the trails, including bringing along bear spray and knowing how to use it.
Just as you came to Jasper to see the beauty of nature firsthand, others will arrive after you. So be considerate and clean up after yourself to make sure the park stays beautiful.
If you've heard amazing things about a trail in Jasper — be it Maligne Canyon, Wilcox Viewpoint or Athabasca Falls — you're likely not alone. Hit the trails early to avoid crowds.
For more information on booking campsites, finding experiences and the latest updates and restrictions, check out Parks Canada's website.