For a small town tucked into the mountains, Jasper has some exceptional dining experiences. From fine dining to incredible patios with Rocky Mountain views, there's something for everyone. Here are some of the best restaurants in Jasper.
Aalto
Settle in lakeside at Aalto, Pyramid Lake Lodge's shoreline restaurant. The recently refreshed space serves "lake food" — mountain-fresh dishes deeply inspired by the neighbouring lake and surrounding peaks. Expect fresh takes on seafood favourites, along with plates that spotlight locally sourced ingredients. Just looking for a snack? The afternoon grazing menu offers shareable options that pair perfectly with the stunning views.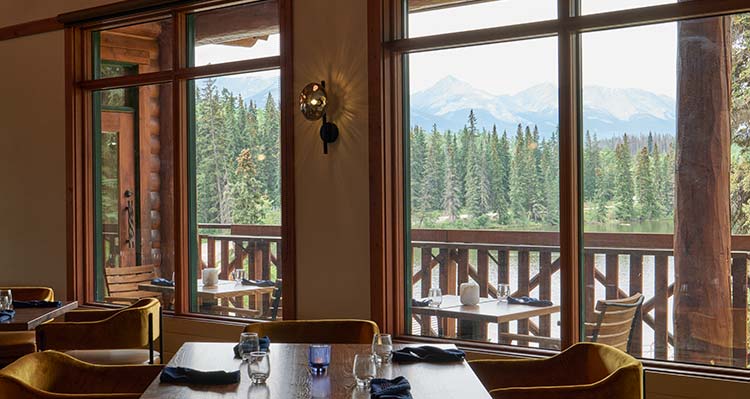 The Raven Bistro
Head to this Mediterranean-inspired bistro for brunch, lunch or dinner. At The Raven Bistro, you'll find carnivores and vegetarians can peacefully co-exist thanks to a variety of equally delicious veggie-centric and meat-focused menu items. If you're the sort who likes variety, it's easy to make a meal out of their tapas plates or the fondue for two. Standout entrees include the elk osso bucco and the coconut kaffir lime seafood pot.
Terra
Terra is a taste of Jasper. Find delicious farmed and foraged food for a dining experience inspired by the rawness of the Rocky Mountains. The menu changes with each season, incorporating ingredients like mushrooms, lentils, squash and meat ranging from duck to the best Alberta beef you've ever had. Try something new for dinner in Jasper.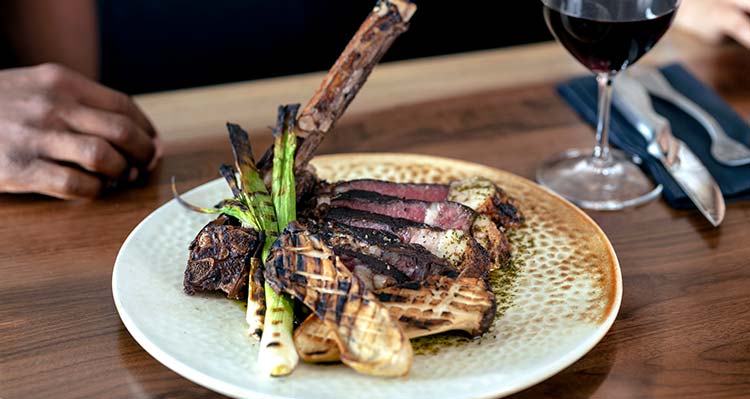 Famoso
If it weren't for the elk that occasionally stroll by, you'd almost think you were in Italy when dining at Famoso. Thin crust is the name of the game at this Neapolitan-style pizzeria kitted out with a 900ºF oven. Share plates, soups and salads round out the pasta and pizza-heavy menu.
Jasper Brewing Co.
At the end of an invigorating day in the great outdoors, nothing quenches your thirst quite like a refreshing craft beer. Ales, stouts, IPAs and Hefeweizens are all on tap at this gastropub. Pair them with elevated classic dishes such as elk meatloaf or pesto pasta. Families are welcome.
Maligne Canyon Wilderness Kitchen
From start to finish, it's hard to beat the atmosphere and menu at the Maligne Canyon Wilderness Kitchen. Maligne Canyon, Jasper National Park's most stunning and accessible natural wonder, is situated mere steps away from this buzzy restaurant. This spot boasts a flavourful and smokehouse-inspired menu that excels at all things barbecue — think brisket, pork ribs and a sharing platter with all the trimmings. There's also a great selection of local beers, some items available as grab-and-go and a roaring fire and fire tables on the patios.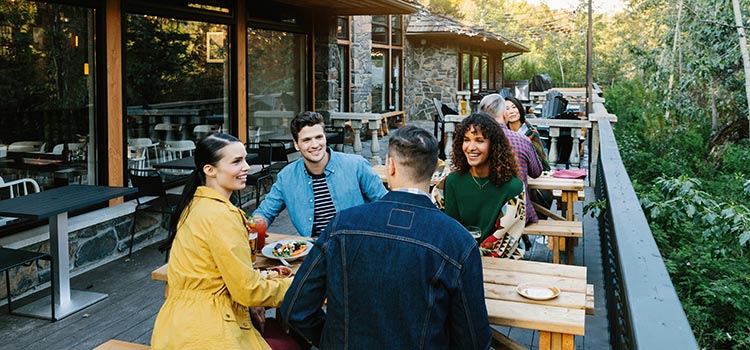 Hearthstone Lounge
Situated inside the Forest Park Hotel, Hearthstone Lounge serves up thoughtful dishes highlighting the history and bounty found in the Rockies. From light bites to lounge-dining mainstays, Hearthstone's diverse menu has a dish to answer just about any appetite. Treat yourself to a selection of classic cocktails before calling it a night.
The View
In the summer, there's no comparison to the aptly named The View restaurant, which overlooks the shores of spectacular Maligne Lake. Recent upgrades make it the patio of choice in the Canadian Rockies. On the menu, you'll find freshly prepared dishes spotlighting regionally sourced ingredients. Popular items include share-friendly sample boards and a range of internationally inspired flatbreads.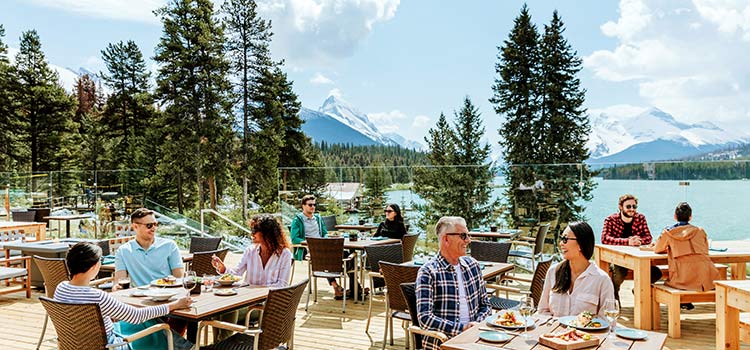 Jasper Pizza Place
It's worth coming to this popular restaurant on Jasper's main drag (Connaught Avenue) for its rooftop patio alone. While thick crust pizzas used to be their specialty, the addition of a wood-fired oven means thin crust lovers can have their pie and eat it, too.
L&W
This family-run restaurant still rocks a charming '70s vibe — head to L&W when you're craving comfort food. Begin with zippy calamari before settling into Greek favourites like lamb chops and spanakopita. With a pizza menu, charcoal grill, seafood dishes and pasta, ordering is no simple task.
Still hungry for more awesome options? Another 10 mouthwatering dining options can be found here.