If you've been out exploring with friends, Tim says your choice from the Wilderness Kitchen's menu is clear—the signature Wilderness Platter lets you sample the best the kitchen offers, and also to share. It's a way to sample the highlights from the menu—including the signature smokehouse meats the kitchen is known for. There are smoked and glazed baby back pork ribs, hickory-smoked chicken, 16-hour slow booked brisket, grilled venison sausage and sides including mac and cheese, baked beans, fresh vegetables and fries. It's all topped off with a sampling of house-made condiments including mustard, horse radish and Canadian whiskey barbecue sauce.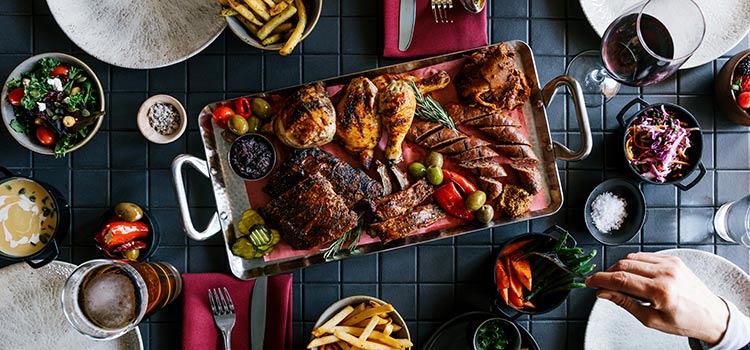 By ordering the platter, diners can bring that sense of exploration and adventure to their meal. Sharing plates cap off the shared adventures people have here in Jasper, he says. After all, spending time exploring the wilderness brings people closer. Not only on the trail do they build connections; it's the post-adventure tale-swapping and the memory-gathering that forges deeper bonds.
"Whether you're hiking, or kayaking, or rafting or taking in one of our ice walks, that's a shared experience," Tim says. "Coming here to cap that off, I think, should also be shared. And that gives a lot of space for interaction and sharing stories while you pass around and share the meal."