While the town of Jasper may be modest, this northerly Alberta mountain community has a big reputation. Nestled in the heart of one of Canada's most beautiful national parks, with a population of 4,500 people, it's a year-round base for endless recreation possibilities. In summer, you can get it all in even in a short visit.
With so much to take in, it pays to plan ahead! Jasper National Park in itself is a massive area—10,878 square kilometres to be exact. Visits here are often one part of a larger trip that includes other stops. You'll want to avoid any unnecessary backtracking—particularly if you're on a short time frame.
Here is our suggested itinerary for 48 hours in Jasper, starting from Edmonton and heading to the Icefields Parkway (and it could easily be reversed if your trip is connected with Banff National Park).
Day 1: Getting There is Half the Fun
From Edmonton, the journey to Jasper is just over four hours following along the beautiful Athabasca River. En route to the town of Jasper itself, keep your eyes out for wildlife, especially once you are past the small town of Hinton. If you see wildlife, remember to stay in your vehicle and keep a distance. See our tips on responsible wildlife viewing.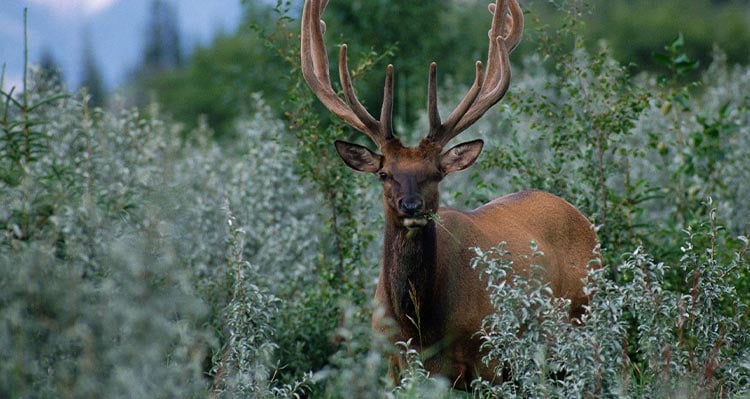 A quick bite at Authentic Burger will set the perfect mood for a casual, relaxed meal with quality pints and plates—a tried and true local favourite for years.
Day 2: Explore Jasper's Natural Waters
You'll want to get up early to enjoy one of Jasper National Park's most breathtaking beauties—Maligne Lake. Head out of town by 7:30 AM and stop for a quick bite to eat at the Maligne Canyon Wilderness Lodge en route. The Maligne Lake Premium Cruise begins their first tour at 9:30 AM, and it's during this morning calm that you can best appreciate the scenery. Discover Spirit Island (accessible only by boat) and enjoy some of the most beautiful vistas in the Rockies.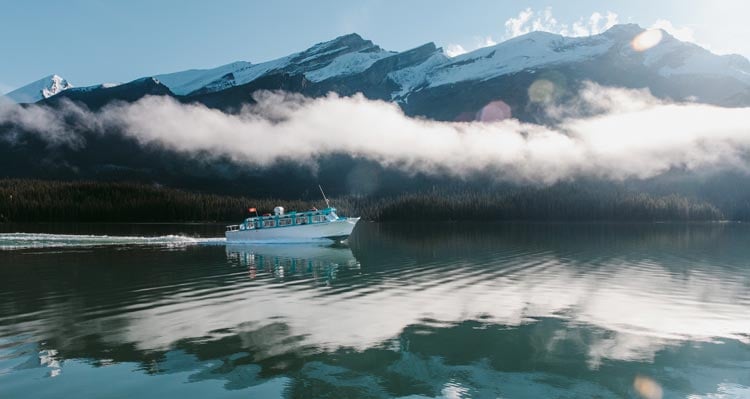 After lunch at the historic Maligne Lake Chalet, head back towards town. Hit up the local artisan shops, take a browse at the Jasper Artist's Guild and refuel for your afternoon adventures at Jasper Pizza Place, a local pizzeria independently owned since the '70s. Grab some basics for breakfast the next morning - you've got another early start!
Enticed by the glacially-fed waters you explored earlier? Find out if you're brave enough to test them for yourself at Horseshoe Lake. You can even try your hand at cliff-jumping into the icy crystal blue depths. But be careful—some of the highest cliffs are 80 feet tall!
To celebrate your last night in town, make your dinner reservation at Evil Dave's Grill. Eclectic and delectable, the meals here are just as sure to intrigue as to satiate.
Day 3: Elevate your Rockies Discovery
With Jasper being quite far north, there are extra-long summer daylight hours to enjoy. Grab your picnic supplies and get out of town by 7 AM. Hiking Mt. Edith Cavell for sunrise will create a memory to last a lifetime. Although the hike can take up to 5.5 hours, an early start means there's no time pressure. You can truly relax, smell the wildflowers and enjoy yourself!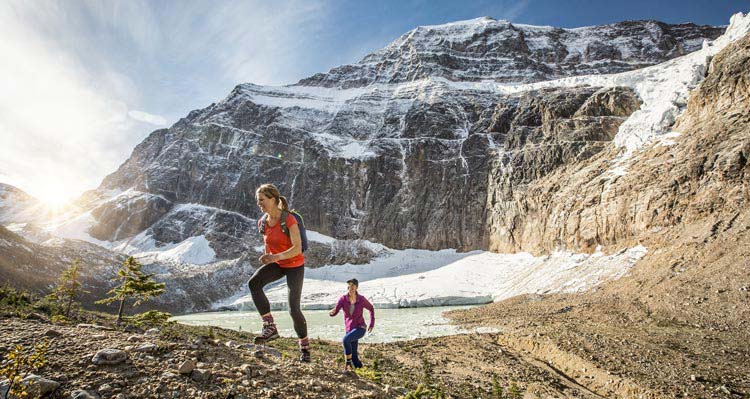 Many travellers combine a visit to Jasper with a following trip to Banff National Park. Luckily, one of the most scenic drives in the world, the Icefields Parkway, spans both national parks and is the main route connecting Jasper, Banff and Lake Louise.
There are plenty of sights worth stopping for along this journey, the most impressive being the Columbia Icefield. Here, you can experience the Columbia Icefield Adventure and Skywalk—two unforgettable experiences in the heart of the Canadian Rockies. An Ice Explorer will bring you to the top of a 10,000-year-old icefield sheet, where you can then stand over a thousand feet of glacial ice for yourself. Then, test your fears on a glass-pathed lookout, as the Sunwapta Valley sweeps out from beneath your feet.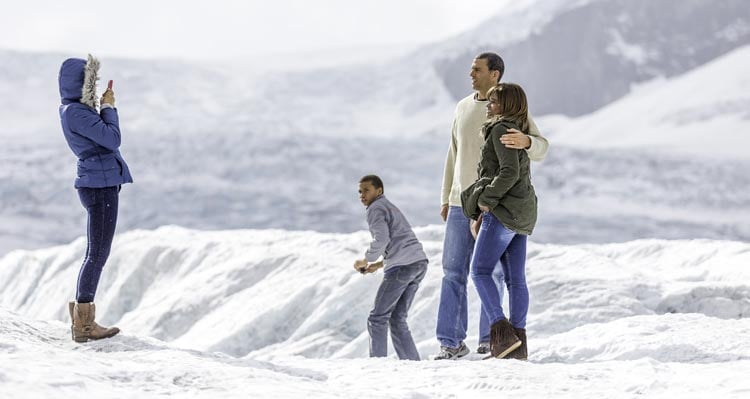 From here, continue south towards Banff and Lake Louise, or drive north and then east back to Edmonton via Jasper. Either way, your drive will be full of more scenery and time to reflect on the memories you've gathered during your 3-day adventure!