A mountain adventure in the Canadian Rockies is memorable every season, and it's especially delightful when your favourite four-legged friend can join in the fun. Luckily for you and your furry buddy, Jasper National Park is incredibly pet-friendly. From exploring the endless array of scenic trails to sampling local flavours and checking out the sights, you'll find a host of tail-wagging activities in beautiful Jasper.
These woof-worthy places to eat, stay and play in Jasper are sure to garner five-paw reviews from you and your pup!
Pet-Friendly Trails in Jasper
Most hiking trails in Jasper welcome dogs, provided they are on a leash at all times. The only exceptions are trails in the national park's primary caribou habitats, such as Opal Hills, Cavell Meadows and Bald Hills. For a gentle and incredibly scenic walk, visit Maligne Canyon. The hugely popular spot tends to become crowded midday, so try and go early to avoid congestion on the trail.
Grab a post-hike snack from the Maligne Canyon Wilderness Kitchen and settle in with your pooch on the front patio. Your pup can cozy up in one of the restaurant's outdoor dog beds while you refuel. The Pyramid Lake Loop, Valley of the Five Lakes, Wilcox Viewpoint and Old Fort Point are other top trails to explore with your pup.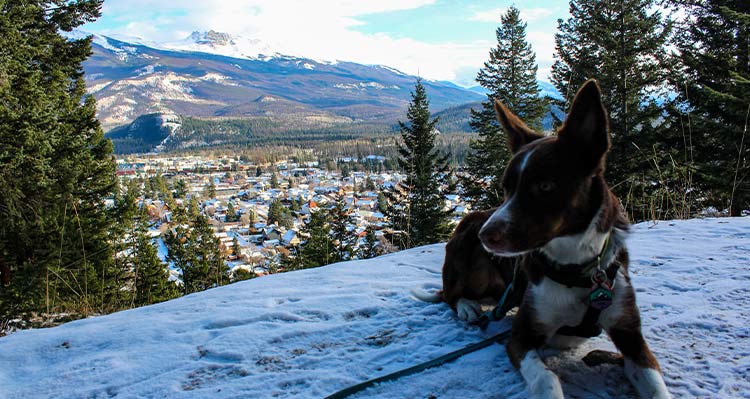 Off-Leash Dog Parks in Jasper
If your pooch loves to play, an off-leash dog park is a great way to burn off excess energy. Bring your buddy to Jasper's fully enclosed dog park at Hazel Avenue and Sleepy Hollow Road. The well-used, off-leash area is the only place to let your dog run wild and free in Jasper National Park.
Pet-Friendly Activities in Jasper
Grab your pet and take the scenic drive to Maligne Lake for the walk of a lifetime on one of the nearby trails. Moose Lake Loop and Mary Schäffer Loop are both perfectly pup-friendly options. Afterwards, grab a bite to go from the Waffle House and wander along the lakeside. Another epic activity is soaring to the top of Whistlers Mountain aboard the Jasper Skytram. The view is spectacular, and a tram ticket for your four-legged friend is as cheap as a good cup of coffee.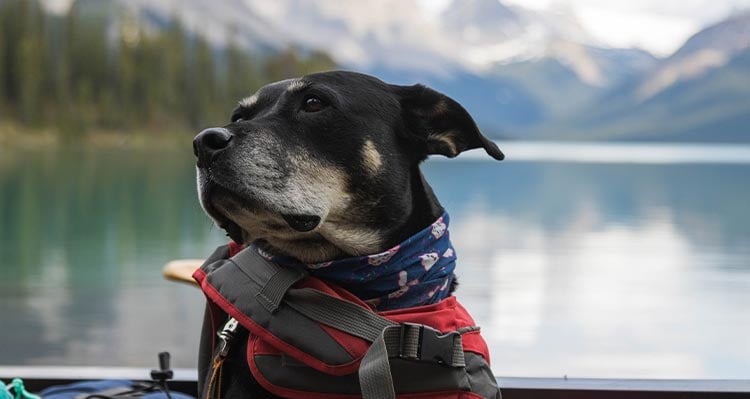 Pet-Friendly Restaurant Patios in Jasper
There are a few restaurant patios in downtown Jasper that welcome well-behaved pets. Jasper Brewing Company, Jasper Pizza Place and Karouzos Steakhouse are three favourite warm-weather options. Do keep in mind that the summer months are Jasper's busiest season, and patio availability may be limited. If you can't find a table, pick up some takeout lunch from the authentically local Terra for a pooch-approved picnic in the park.
Pet-friendly Jasper Hotels
Securing pet-friendly accommodation is easy in Jasper, as most properties welcome well-behaved pets. For an authentic Canadian Rockies escape, book at the Pyramid Lake Lodge, located a few minutes from downtown Jasper. With epic lake views, trails and on-and-off-the-water activities, this stunning lodge is sure to please. Up to two pets (dogs or cats) are allowed per guestroom.
The Miette Mountain Cabins, about 30 minutes outside of Jasper, is another unique property for pet owners. An onsite restaurant, playground, outdoor BBQs and a heated outdoor pool and hot tub create a resort-like feel. In-town options include the Forest Park Hotel, Lobstick Lodge, Marmot Lodge, The Crimson and Chateau Jasper. Call in advance for pet policies and to reserve a pet-friendly room.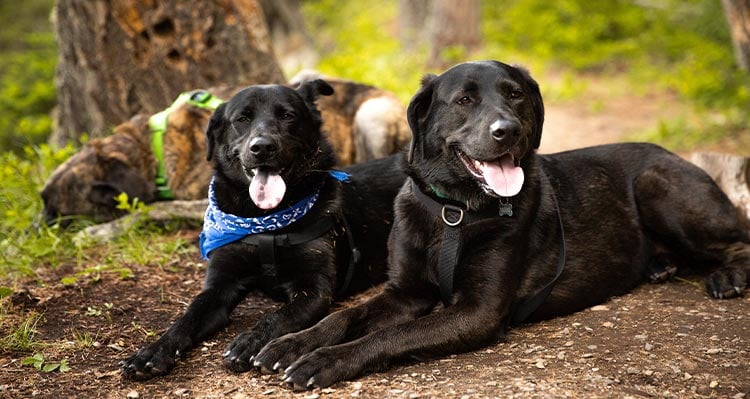 Pet-Friendly Tips for Jasper
While Jasper National Park is a fantastic place to bring your pet, there are a few safety tips and tricks you should know to help keep everyone happy and safe:
Book accommodation well in advance and call your hotel directly to confirm pet policy and deposit details.
Pack all your pet's essentials, including food, a portable water bowl for hiking, a leash and collar, a towel to clean off muddy paws, waste bags and a secure crate if you plan to leave your pet in the hotel room. Visit Everest Outdoor Store for any missed essentials.
Always keep your pet leashed and within arm's reach, especially on hiking trails. Jasper National Park teems with wildlife, and it's essential to keep pets close and immediately pick up smaller pets if you encounter a wild animal.
If you plan activities that don't allow pets, such as the Maligne Lake Cruise or wish to dine at one of Jasper's many restaurants, consider a qualified pet sitter through Jasper Pet Outpost, the mountain's best doggy daycare.
Learn more about pet-friendly accommodation in Banff and start planning your hound-happy Canadian Rockies getaway.