Working from home and dreaming of mountain life? Craving fresh air, outdoor play and a laidback small-town vibe? The magical Canadian Rockies offer a spectacular backdrop for daily Zoom calls and Teams meetings. Can you picture just how phenomenal your lunch break will be? Perhaps it's time to level up your remote office and book a work vacation in Banff or Jasper.
Interest piqued? Read on for a little more inspiration and to learn how you can transform dreams into reality.
1. Plug and play in Banff and Jasper
While mountain towns in the Canadian Rockies boast a faraway feel, you'll find every modern amenity needed for remote working. Excellent Wi-Fi—on and off the slopes—and high-speed internet at all in town hotels ensures you'll never miss an email—unless you choose to.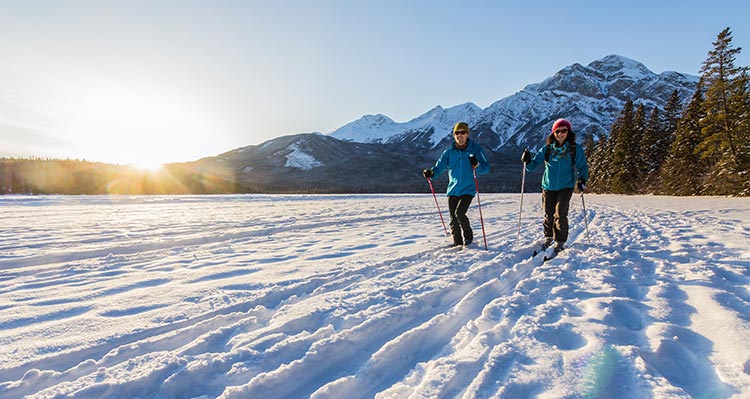 2. Better breaks in Banff and Jasper
It's easy to make the most of your lunch break in the Canadian Rockies. Take it slow with a leisurely stroll around Pyramid Lake or Maligne Canyon in Jasper, go fat tire biking alongside Banff's Bow River or kick it up a notch on one of the many accessible cross-country ski trails. It's incredible how energizing an hour of outdoor exploration can be.
3. Local eats in Banff and Jasper
Canadian Rockies cuisine is legendary, and Farm & Fire on Banff Ave is the locals' hot spot. Dine-in family-style, on juicy rotisserie chicken and delicious sides, or grab a fire-roasted flatbread for a simple lunch-on-the-go. In Jasper, linger lakeside at Aalto, in the Pyramid Lake Lodge. Or refuel at the Maligne Canyon Wilderness Kitchen after your hike. From coffee shops to fine-dining restaurants, you'll find plenty of locally-owned eateries to curb your every craving.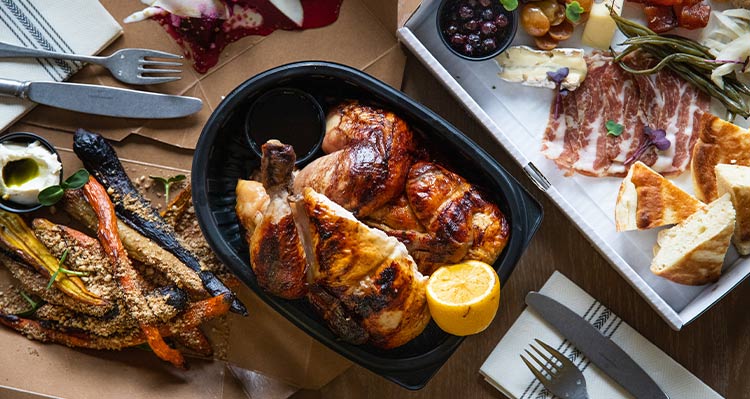 4. Epic evenings in Banff and Jasper
Post-workday play is epic in the Canadian Rockies. Skate at a local rink, or take a quiet evening walk through town. If the slopes are calling, Norquay in Banff lights up the night every Friday and Saturday, from 5–9 PM, for skiing and snowboarding. Or, bundle up for some of the world's best stargazing right outside your room—fun fact: Jasper National Park is our planet's largest accessible Dark Sky Preserve.
5. Live like a local in Banff and Jasper
Settle in and enjoy a taste of local life. A change of scenery does wonders for the soul, and the Canadian Rockies offers something unique. Wide-open, inspiring spaces and exhilarating, accessible adventure activities make exploring the outdoors easy. You'll put fewer klicks on the car and get way more steps in. When it's time to return home, leave feeling refreshed with a full and happy heart.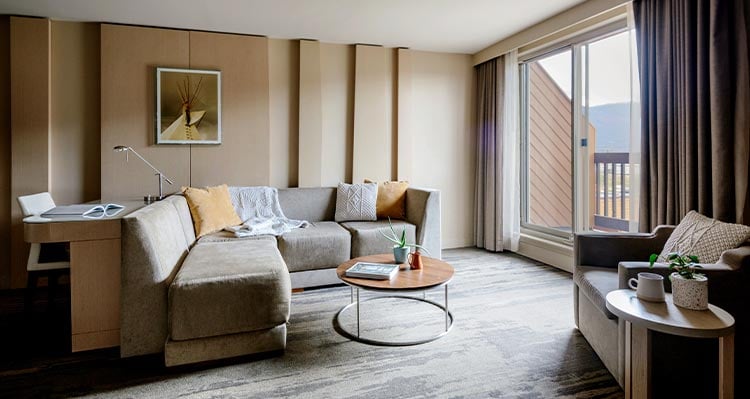 6. Suite Stays in Banff and Jasper
A remote working vacation may require slightly more space than your typical Canadian Rockies ski getaway. Fortunately, there's plenty of accommodation options to choose from. Banff's Mount Royal Hotel offers views of Tunnel Mountain from its signature Junior Suite. A kitchenette, workspace and complimentary internet are a few additional room highlights. Or opt for Elk + Avenue's larger loft or junior suite. While there's no kitchenette, you'll be an elevator ride away from Farm + Fire and Good Earth Coffeehouse. In Jasper, the Pyramid Suite at Marmot Lodge, The Crimson's kitchen suite or the Forest Park Hotel's executive suite are prime choices.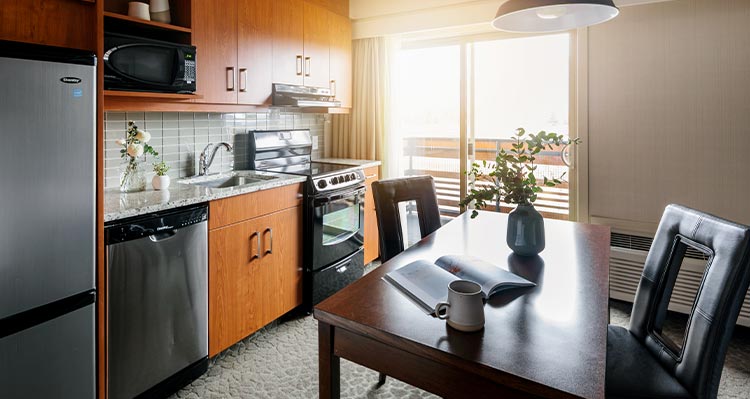 Contact our local experts to learn more, and book your remote work vacation in the beautiful Canadian Rockies.